Concept, director, dramaturg:
Fjolla Hoxha

Sound designer:
Timo Viialainen

Creative producer:
Nelly Hakkarainen

Production:
Helsinki City Theatre's
Stage for Contemporary Performance
Image: Dylan Simon
The image is a risograph printed collage based on the following photographs:
Opening of Intiimiteatteri in 1981, Helsinki City Theatre archive Juhani Rytkölä, Helsinki City Theatre archive
Studio Pasila, photographer Miika Storm
Stage for Contemporary Performance is a pilot project implemented in studio Pasila during 2022 and 2023. The objective of the project is to include different forms of contemporary performance in the Helsinki City Theatre's seasonal programme. In 2023, the activities of the Stage for Contemporary Performance are divided into three premieres and two guest performances. The pilot project is supported by the Kone Foundation.
Lue lisää
From the Director
To enable other voices to be heard shifts the dynamics of an acoustic environment
– Brandon LaBelle, lecture at PUBLICS, 10 May, 2023, Helsinki
Although every representation is a signifier, an interpretation, a carbon tracer of an original, I have decided to take the risky responsibility of bringing backstage narratives to the fore by utilizing the language of performance art that equips me with the benefit of the doubt.
Read more
My inclination to hear and retell the stories of the technical workers of Helsingin Kaupunginteatteri (HKT), the Helsinki City Theatre is a continuation of the performance research "Modification as a Mode of Resistance" that started during my MA studies in Live Art and Performance Studies in 2019. At the beginning, I was trying to hear my own voice and allow others to listen to the stories of my acrobatic survival during the systemic oppression and war in my ex-home country ex-Yugoslavia during the '90s. I was hoping to encounter sympathy and recognition.
Few or many may disagree that at the core of this, like any other war on our planet, lies the hunger for unequal accumulation of power and domination which utilizes various kinds of identitarian politics to divide, destroy and conquer. The functionality of this system is closely tied to the production and (mis)distribution of value, which leads me to my interest in scrutinizing labor.
So, my desire expanded to wanting to hear the stories of the factory workers back home in order to stretch the diameter of what I was looking at/searching for/curious about beyond myself; the voices of those who don't speak in the name of an institution but make the institution with their bodily labor. I am very interested in their relationship with their workspace and how they co-create and interact. These voices are exciting because they are often stripped from the polished language of representativeness. Hence they seem more honest and non pretentious. I might be taking sides here, but that's probably better than being neutral.
"What is seen and what's (left)behind the scene?" is a pretty straight forward question-title but realizing it was a very composite and multilayered process. Initial urges were to create a performance together with the technical staff that would unfold their duties, skills and their relationship to their work venues. For various practical reasons this turned out to be hard to implement.
With the persistence of my curator Riikka Thitz to bend ways of doing and stay obedient to my research methodology "Modification as a Mode of Resistance", the idea of a sound performance started to take shape. Through interviewing technical workers from various stages of HKT, we were not only looking at their stories but also tracing the trajectory of the formation of HKT which leads to the workers' movements in Finland. 
Whilst the voices of the workers, some of which have chosen to remain anonymous, are interpreted by the talented and enthusiastic actors of the HKT ensemble, what you will hear are vis-á-vis snippets of how they told us their stories. The words that they chose, the pauses that they needed to take down the windy paths of the memory lane, the imperfection of the spoken language, have adherently been protected from being altered so that the audience to a certain extent can enjoy the sheer beauty of their presence and the genuineness with which they shared their stories.
This performance was made possible with the dedication and trust of: 
My benevolent curator Riikka Thitz, my resilient and enthusiastic creative producer Nelly Hakkarainen, long term collaborators as sound designer (in this performance also as technical guide) Timo Viialainen and graphic designer Dylan Simon, Studio Pasila's Head of Stage Aku Korhonen, sound actors June Hyde, Martti Manninen and Vappu Nalbantoglu, Emmi Linnankivi for marketing and communication, dresser Paula Ojala and everyone at Studio Pasila, sound manager at HKT, Samuli Peltonen, Theater Museum Archives, particularly Pälvi Laine, Työväen Arkisto (The Labour Archives), particularly Heta Tolvanen and Pete Pesonen, Katiana Chatta, Henriikka Nyberg, Tuomas Antikainen, Jan Fäldt, Nina Virkki, Ville Nikku and all the interviewees who preferred to remain incognito, performance guides Joe Ahonen and Timo Ritonen and consultant Minna Henriksson.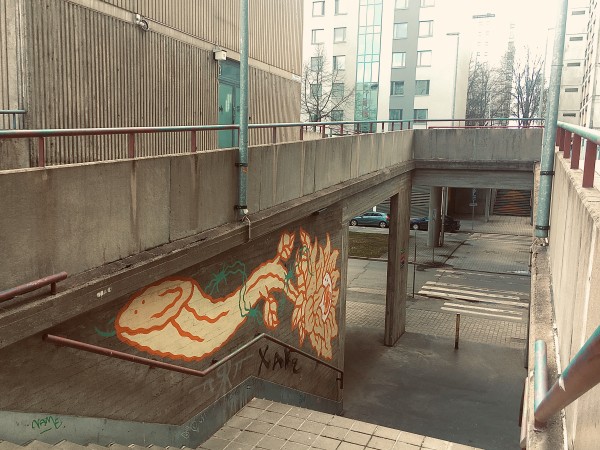 References
Read more
Alapuro, Risto. State and Revolution in Finland. Historical Materialism Book Series , no. 174 , 2. ed. edn, Brill , Leiden, 2018
Koski, Pirkko & Palander, Misa (eds.). Kansaa teatterissa. Helsingin Kaupunginteatterin historia. Helsinki: Like, 2007.
(Koski, Pirkko & Palander, Misa (eds.). People's theater. The History of Helsinki City Theatre. Helsinki: Like, 2007.)
Seppälä, Mikko-Olavi. Parempi ihminen, parempi maailma : suomalaisen työväenteatterin päättymätön tarina. Tampere: Vastapaino, 2020.
(Seppälä, Mikko-Olavi. A better person, a better world: the never-ending story of Finnish working-class theater. Tampere: Vastapaino, 2020.)
Työväen Arkisto:
Työväen muistitietotoimikunnan kokoelmat:  Anja Hietalan muistelma (4189), Hugo Westerlundin haastattelu (3315), Urho Tannerin haastattelu (1726). Työväen Arkisto.
(The Commission of Finnish Labour tradition: Anja Hietala's memoir (4189), interview of Hugo Westerlund (3315), interview of Urho Tanner (1726). The Labour Archives.)
Sounds from the archive Doria Raita – musiikkia vanhoilta äänilevyiltä (Public Domain http://creativecommons.org/publicdomain/mark/1.0/deed.fi)
Dumboms leverne
Lindfors, Adolf (esitt.); Kellgren, Johan Henrik (san.) (1904)
Velisurmaaja
Poppius, Olga (esitt.) (1933)
Soundclips sampled from Kuinka draama syntyy (1954),  https://areena.yle.fi/1-50103166
Sounds from freesound.org